4 days
Portugal
Lisbon
Cook with an award winning chef in the kitchen of his restaurant
Enjoy Lisbon's gastronomic delights: taste innovative and playful Portuguese cuisine
Learn how to create some wonderful dishes at home
Discover wonderful scenery and stunning architecture
Delight in convivial and captivating Lisbon and take advantage of the warm climate
Guestbook
If you would like to read what our travellers wrote in their own words, please click
guest feedback
About Lisbon
Lisbon, the capital of Portugal, enchants its visitors with its laid-back but seductive culture. It is on the one hand a metropolis with a large array of imposing squares and grand buildings. On the other, the majority of the individual neighbourhoods have each maintained their own village-like character.
When exploring this city it is best to fall into its Mediterranean rhythm, which is regularly peppered with African and Latin American influences. Walking along the cobbled streets which open up onto grand squares with imperial remnants, one can stop at one of the many local bars to enjoy a café, a carioca (weaker coffee) or meia de leite (coffee with milk). Many of these cafes also offer the delicious and famous pastel de nata (custard tart).
Lisbon was once the center of the world's first colonial power and it is therefore not surprising that the city has many monuments which are worth seeing. If you stray off the tourist track, the city becomes a trove of unexpected treasures.
One should also not forget the city's beautiful location, being situated on and around seven hills, at the mouth of the river Tagus. It's up and down landscape provides a wealth of breathtaking viewing points, called miradouros. Lisbon's balmy climate makes whiling away one's time whilst sitting on one of the city's many terraces a delightful way to spend an afternoon.
Food, wine & cooking in Lisbon
Like all major southern European cities, Lisbon has a rich and wonderful culture relating to food and drink, rooted in its tradition of exploration. Add to this mix a coterie of talented young chefs and restaurateurs often trained at the best restaurants of London, Paris, Madrid and San Sebastian, then it is clear to see why Lisbon is an internationally emerging culinary hot spot.
The Portuguese capital has always been one of the best places in Europe for fresh fish and seafood, however, it was not until fairly recently that one could enjoy these and other delicious dishes in chic modern surroundings.
Culinary critics around the world are now finally giving the new breed of Portuguese food, which fuses fresh local ingredients with the kind of creativity that set gastronomic capitals like Madrid alight, the recognition that it is due. Nowadays restaurants range from the old-fashioned to the trendy and stylish – in the latter category a younger generation of chefs has become celebrated for inventive Portuguese cuisine, with influences of former colonies including Brazil, Macau, Mozambique and Goa.
Classic dishes such as Ameijoas a Bulhao Pato (venus clams with olive oil, lemon and herbs), Perdiz a Guincho (braised partridge) and Arroz de Pato (duck cooked in the oven with ham, chouriço & Carolina rice) have been successfully reinterpreted.
But rest assured, the more traditional establishments offering a comforting old fashioned menu can still be found. These restaurants excel at doing straightforward dishes very well; here one can enjoy delicious traditional foods, such as caldo verde, a soup made from kale, potatoes and chouriço sausage, and pasteis de bacalhau (salt cod cakes), not to mention the country's fine wines and ports.
Many excellent Portuguese wines are served in restaurants, bars and enotecas. These include crisp and refreshing white wines with peachy aromas, made of local grape varieties such as Antão Vaz, Alvarinho and Arintowith the occasional addition of non-native varieties. Or deep velvety red wines made of Castelão, Touriga Nacional and Baga, which is delicious when accompanied by dishes made of black pork.
As in Spain one can often still dine at midnight. After dinner many bars in the neighborhoods of Bairro Alto, Docas or along the river beckon Lisboans and visitors alike to drink caipirinhas or mojitos. For those with energy left, one can dance until dawn in one of the many clubs of the city.
In short, we expect that you will find Lisbon captivating – its great food and wine, and stunning scenery. 
Designed for people who love and appreciate fine food and wine, our Lisbon cooking classes long weekend is perfect for those who wish to discover some of Lisbon's gastronomic highlights. At the same time you will have the opportunity to learn the skills and gain the knowledge to cook creatively when you return home. More information about our Lisbon cooking classes, as well as a short description of the accommodation and program is provided below
Lisbon Cooking Classes – About the Chef
We offer cooking master classes with some of Portugal's' top chefs. This is a rare opportunity to work with, and learn from, some of the leading and most innovative chefs in their own restaurant kitchens.
Classes are informative and entertaining, and include tastings and refreshments and culminate in lunch served with wine.
You will of course receive copies of the recipes prepared which will enable you to recreate these wonderful Portuguese dishes at home.
Chef Nuno grew up in Portugal in Lisbon, in a coastal region famous for the quality of its oysters, sardines and locally grown rice. Growing up there sparked a love of Portuguese cuisine and seafood evident in his cooking.
Nuno also has a deep respect for rich culinary traditions of the Alentejo region south east of Lisbon.  it is a region offering great scenic beauty with its rolling countryside full of cork oaks, olive trees and vines. The Alentejo is famous in Portugal for the quality of its comfort food, like local gaspachos & the carne de porco Alentejano (pork and clams cooked together).
Nuno's passion for food has led him to study numerous different cuisines, and this career so far he has worked in some of the finest restaurants in Dublin as well as Lisbon. Most recently, he established his own restaurant in the center of Lisbon. The restaurant, opened to great acclaim – critics have rated it as one of the best restaurants in Portugal.
Guests have praised the "traditional creativity" of Nuno and his team's menu. He reinterprets and imaginatively presents traditional flavors of Portugal, serving modern Portuguese food with rich flavors subtly enhanced but never overpowered.
Of course the chef focuses on the best seasonal produce, opting for organic ingredients as much as possible. The extensive wine list offers  sizable selection of wines from not widely known quality producers, many from organic vintners. Some of the wines are natural.
The design of the restaurant has also won a number of accolades: set in grand turn of the century buiding, the interior design contemporary and the dining room is very comfortable.
Lisbon Cooking Classes – About the classes
Our long weekend program offers two cooking classes (of around two hours each), followed by dinner or lunch, with tastings and refreshments during the class.
One cooking class will have an emphasis on fish and seafood, while the other will have more of a focus on meat dishes.
With the chef and his team you will have the opportunity to prepare three or four dishes in each master class; one or two starters, a main course and a pudding.
Classes, held in the spacious and well equipped working kitchen of the restaurant, will be a combination of hands-on cooking and demonstration. At the end of the class, lunch or dinner will be served in the main restaurant. The meal will comprise the dishes prepared during the morning / late afternoon, and will be served with wines chosen by the restaurant's sommelier to complement each course.
During the classes you may learn new exciting flavour combinations – please find below some examples of dishes which may be prepared during the classes:
Fried cuttlefish with oysters from Setubal in a Portuguese risotto
Duck ham with oven roasted figs and red wine gelee
Skate wing garnished with squid, clams and Iberian butter beans
Filet of acorn-fed Iberico pig, marinated with smoked paprika, with clams
Red mullet stuffed with anchovies and olives 
Milk-fed veal ""Maronesa"" chef's style (Maronesa is a breed from Northern Portugal), with corn fritters and lemon butter
Portuguese sardines served on brioche, accompanied by cheese from the Azores (queijo da ilha) and strawberries
Rack of lamb, prepared with oriental spices, served with figs and grapes
Tuna with pineapple from the Azores, passion fruit and sweet potato
Peaches baked in custard
Orange sponge cake with tangerine icecream
Chocolate coated raspberries with ""poejo" (herb from Alentejo, oregano family)
As the chef likes to use organic and seasonal produce, the final choice of dishes prepared will vary depending upon the time of year and availability of ingredients.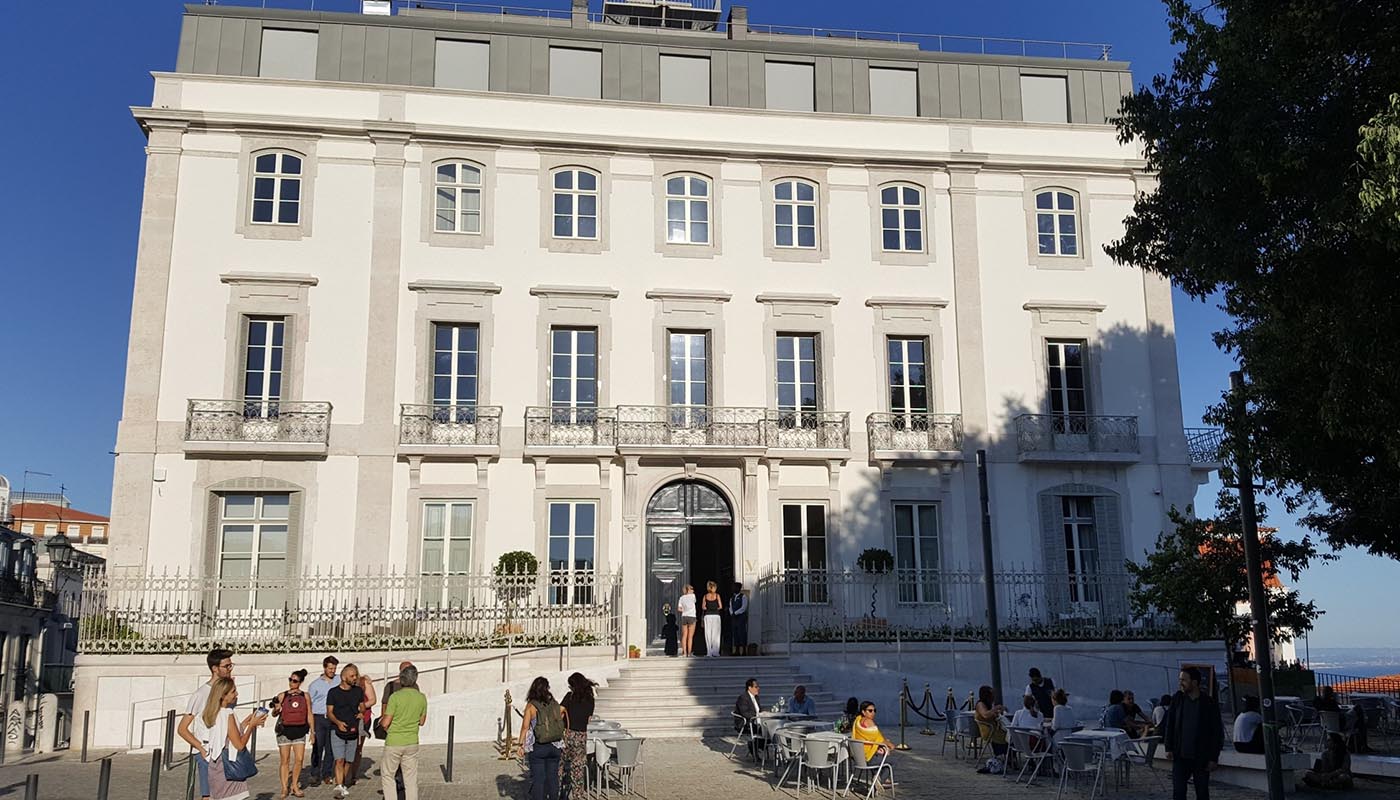 Accommodation for the three nights is a 4-star hotel, located in an imposing historic building dating from the early 20th century.
The hotel, which has recently been refurbished, successfully blends traditional Portuguese charm with modern design. All the rooms have parquet floors, air-conditioning and are very comfortable while some have their own private terrace.
The hotel is located in a quiet area in the heart of Lisbon, near the Praca Marques Pombal and is conveniently situated for the metro.
Dates 2022:
This gastronomic break is available throughout the year, with the exception of August.
The minimum number of guests is two
Please contact us for availability
The price for an all-in 4 days (3 nights) gastronomic break for 4 people is:
EUR 585 per person
A single room supplement of EUR 160 is applicable
The price for an all-in 4 days (3 nights) gastronomic break for 2 people is:
EUR 775 per person
A single room supplement of EUR 160 is applicable
What is included:

Three nights accommodation 4 star hotel
Three breakfasts
Two private cooking master classes with a top chef – including refreshments
One extensive restaurant lunch, following cooking master class – including selected wines, soft drinks, coffee and tea.
One extensive restaurant dinner, following cooking master class – including selected wines, soft drinks, coffee and tea.
One extensive local restaurant dinner– including selected wines, soft drinks, coffee and tea.
A tour of Lisbon / Alfama, Graca & Baixa areas
It is possible to to enjoy a shorter version of this weekend city break.
Please contact us for further information.
Lisbon airport is a 15 minute journey by taxi from the centre of Lisbon.
Arrival and departure transfers can be organised easily.
Paladares Travel does not offer flight or car rental services and we suggest that you to book these directly with one the many companies offering such services. However, if you would like Paladares Travel to assist you in making such arrangements please let us know.
If you wish to book your flights directly, we kindly refer you to http://www.flytap.nl, the website of TAP Portugal.
TAP Portugal is Portugal's national airline; they are known for their reliability and good level of service.
TAP has frequent connections to various cities in Portugal, from Amsterdam, Brussels and London.
Alternatively there are many other companies offering flights. Booking early can be very advantageous.
Please find below an outline of the gastronomic trip, which is available all year round, with the exception of August. The itinerary, for two people or more, may be started on any day of the week except Sunday.
It is also possible to tailor the program to your individual requirements should that be of interest. For example, additional activities can be included during the day or your stay can be extended for you to further enjoy this wonderful city or indeed other regions within Portugal.
Should you be interested in a tailored program, please contact us and we would be happy to arrange a bespoke gastronomic experience for you.
Day 1 (Thursday)
Arrival at the hotel.
Dinner will be served in a stylish modern Portuguese restaurant located in the historic part of Lisbon. The restaurant, on the riverfront, affords wonderful views of the city and river. The chef focuses on seasonal and regional offerings, fusing excellent Portuguese cuisine with some Mozambican influences, such as fresh seafood and tropical fruits. The three-course menu will be accompanied by matching local wines.
Day 2 (Friday)
After breakfast a tour with a local guide through Baixa, Graca and Alfama. These are the oldests areas of Lisbon, dating back to Roman and Arabic times, which is still clearly visible, and still home to some of the best rustic traditional eateries in Lisbon.
Strolling through the alleyways and squares you will enjoy the sights and sounds of these quirky yet beautiful neighbourhoods. Your guide will share with you numerous facts and stories about the area which are not mentioned in guide books.
After the tour, you will have some free time to explore the town and do some shopping. Of course we can give you tips as to where to find local delicacies.
In the late afternoon you are expected at chef Nuno´s restaurant for your first cooking clas. Over the following few hours you will have the opportunity to experience the preparation of a number of wonderful Portuguese dishes and learn new techniques. The course will culminate in a dinner served at the restaurant, complimented by beautiful Portuguese wines.
Day 3 (Saturday)
After breakfast, time on your own.
Around noon return to the restaurant, where the second cooking class will commence. With the chef and his team you will have the opportunity to prepare some delicious Portuguese cuisine. Lunch will be served after the class, comprises the dishes prepared. It will once again be accompanied by excellent wines.
During the afternoon you will be free to discover the city further at your leisure. In the evening, we would be happy to recommend some of our favourite restaurants and make a reservation for you, or you are free to discover one of the city's many establishments by yourself.
Day 4 (Sunday)
Breakfast sees the conclusion of the program.